Cross Tattoos Design Idea For Men and Women
The cross tattoos message cannot be missed. The popular simplicity tattoo that has the cross sign has become a focus of religion to many users. The cross which appears in different religions around the world has a lot of symbolism. The user of the tattoo is the one who can clearly express the meaning of the tattoo.
The cross can be used a symbol that depicts the human's ideology where the world is divided into air, earth, water and fire or even directions like east, west, south and north.
Cross Tattoo meaning
Cross tattoo meanings a lot of things to many people. This can represent the following things, Union of man and woman, Atheism, The occult, Pain through love or loss, Peace, Regality, Strength, Courage, Christianity/Christian faith, Life, Sun/Sun-worship, Equality, Suffering, Death, Gothic/Goth culture, Spirituality, The feminine, Dedication, Constellation, Honor, Ascension, Cultural/family heritage and Memory of a loved one. The #cross tattoo is very popular and has personal, deep, cultural and historic significance that can be customized.
Men and women make use of the #tattoo for many reasons and with the plethora of meanings that the tattoo comes with. Most people customize it to look amazingly great and you are the one to decide what you want your cross to mean. At the end, it is what you make your cross that it will be for you. Cross tattoo can be added to numerous items and even messages to change the way that it looks like. Take for instance, the cross that comes in various shapes and sizes. There is no part of the body that it does not fit in. what is the meaning of cross tattoo? A lot of people have different meanings for it. It is very important for you to know what you are inking on your body.
1. Chained cross tattoo design idea for girl on the back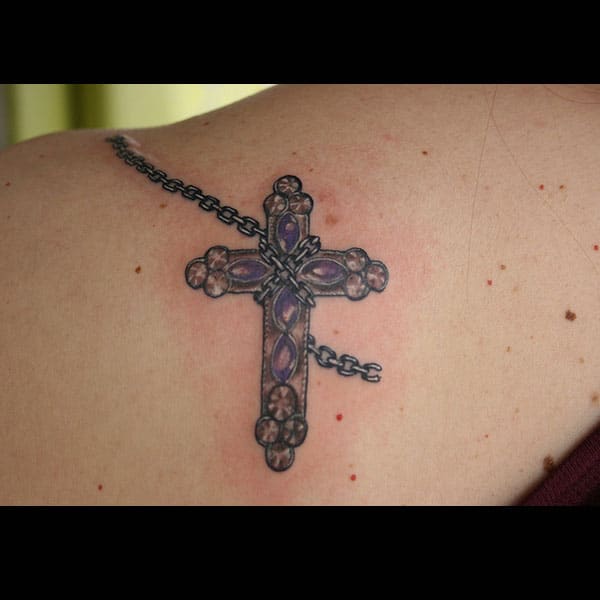 The cross tattoos are drawn by inspiration from the artist or the person who wants the tattoo. image source
2. Cross tattoo idea with message; think positive on the wrist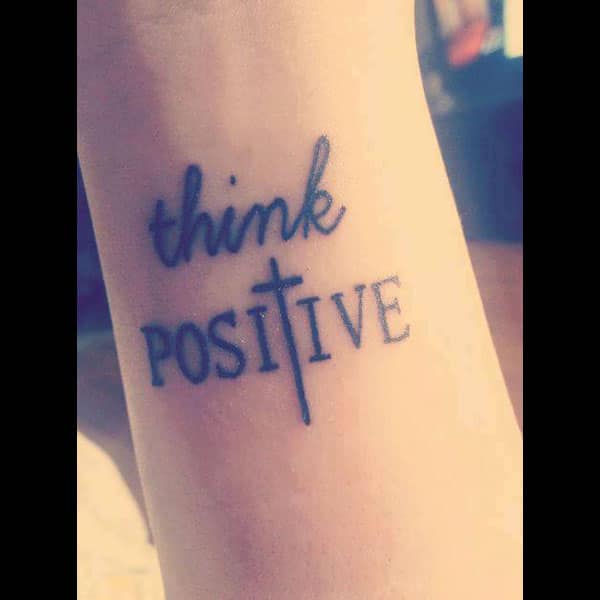 It can be drawn to be small or large. It depends on the person who is making use of it. A cross tattoo are respected and doesn't look fierce or ugly. It is friendly and hardly conjures evil imaginations. Maybe, that is the reason why a lot of religious feel comfort with it on their skins. image source
3. Dragon and cross tattoo ink for men on the chest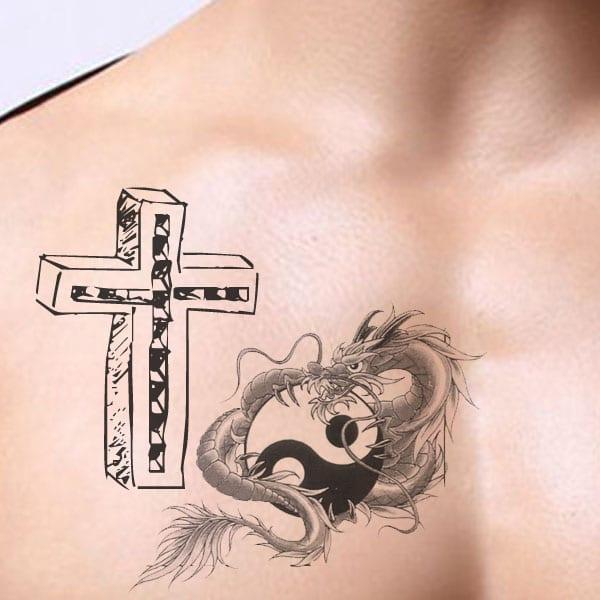 The cross tattoos may not necessarily represent any religious belief. You can use it for beautification on your body.
4. Sleeve man and cross tattoo design idea for men
Celebrities like Justin Bieber are proudly carrying their cross tattoos on different parts of their bodies. You can have your cross tattoo according to the message you are trying to pass to the public. image source
5. Flower and colorful cross tattoo ink for men on the neck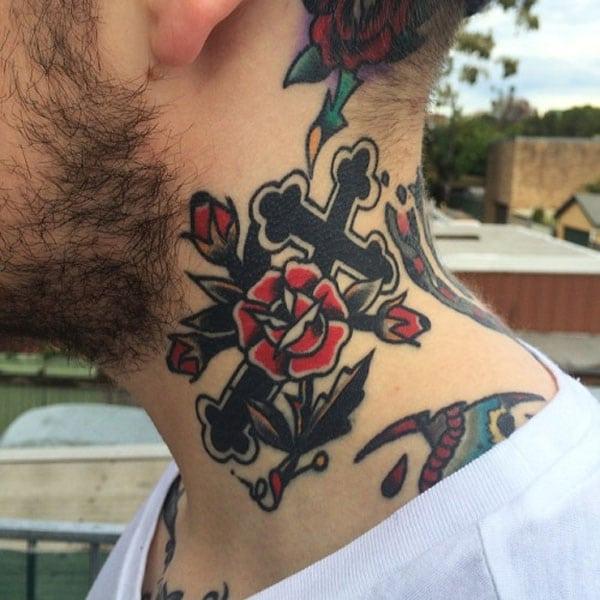 The cross tattoos can come in different shapes with different meanings too. The way these crosses are drawn on these days are better and refined. image source
6. Angel and cross tattoo ink for fashionable ladies on the leg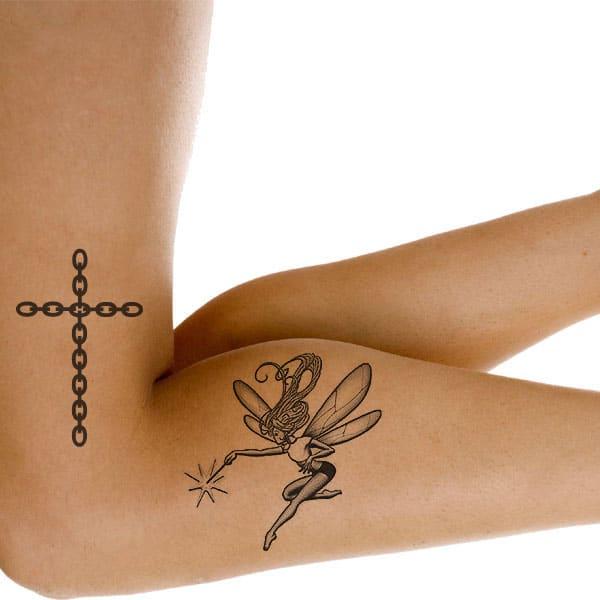 What are you still waiting for before you get that cross tattoo on your body?
7. Amazing cross tattoo ink design idea on thee leg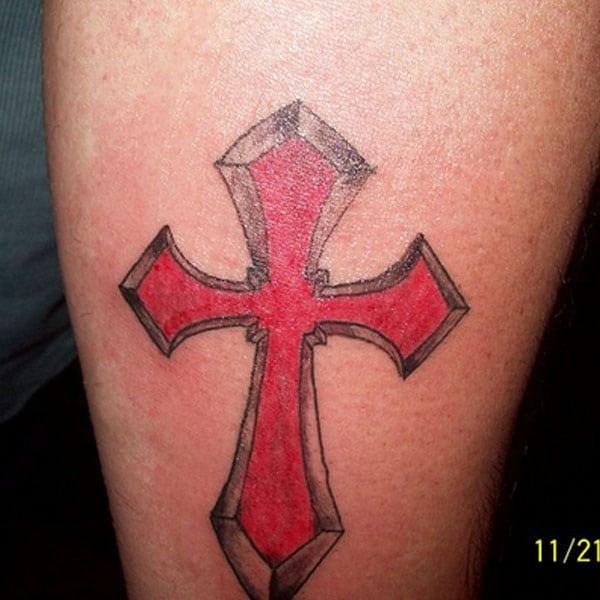 Today, we have the 3D cross that has infused creativity to it. You will this type if you are interested in arts. image source
8. Falcons and cross tattoo ink for men on the chest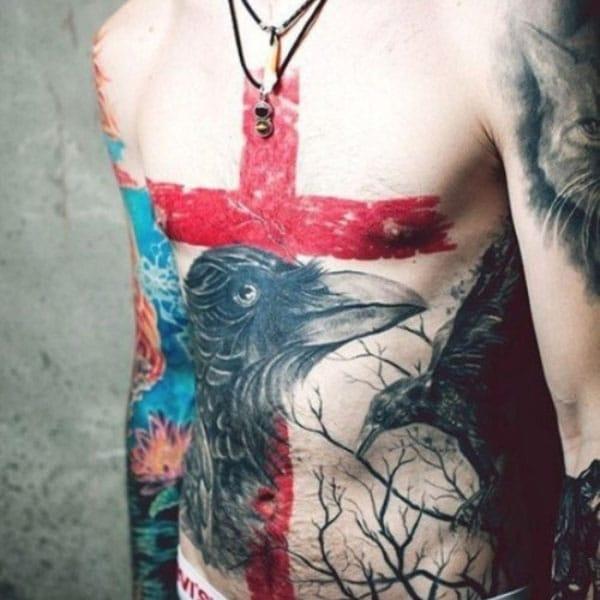 You can use it to reaffirm to what you believe especially for the Christians who have found it as a solace in time of troubles. image source
9. Skull and people carrying cross tattoo idea for ladies on the back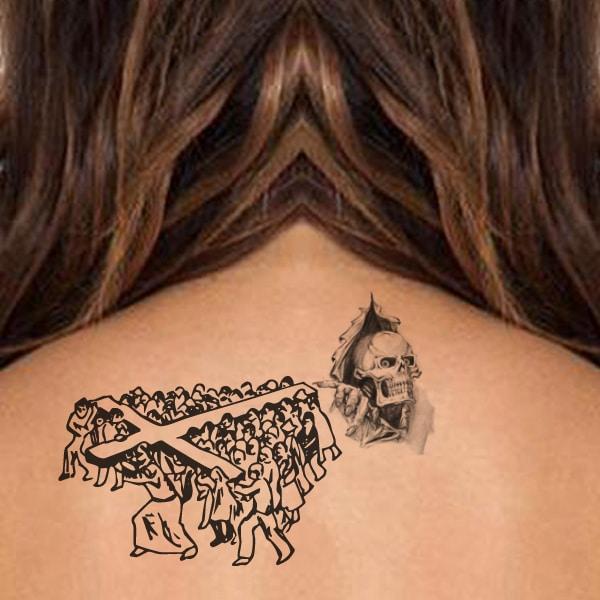 Life challenges are easily depicted with the cross. You can tell your own story in a different way with your cross tattoo.
10. Cross and skulls tattoo ideas on men sleeves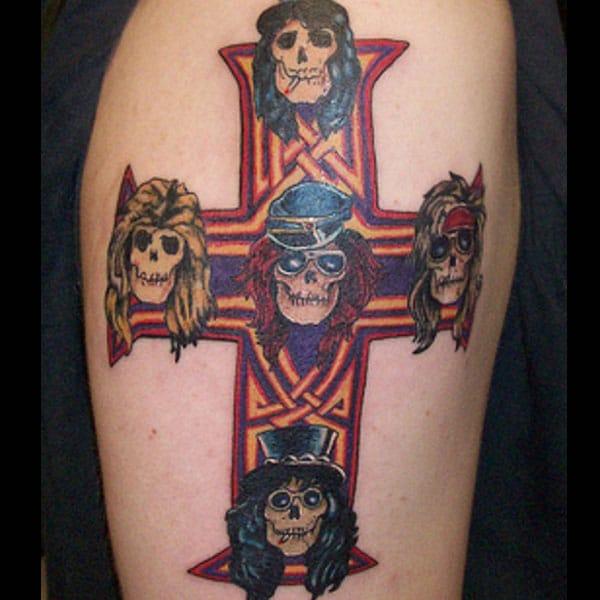 We have seen a lot of people ink the cross in delicate places like the shoulder blade, ankle, wrist or even close to the ears. Sometimes, these crosses are hidden from the public. image source
11. Kneeling angel and red cross tattoo idea for girls on the back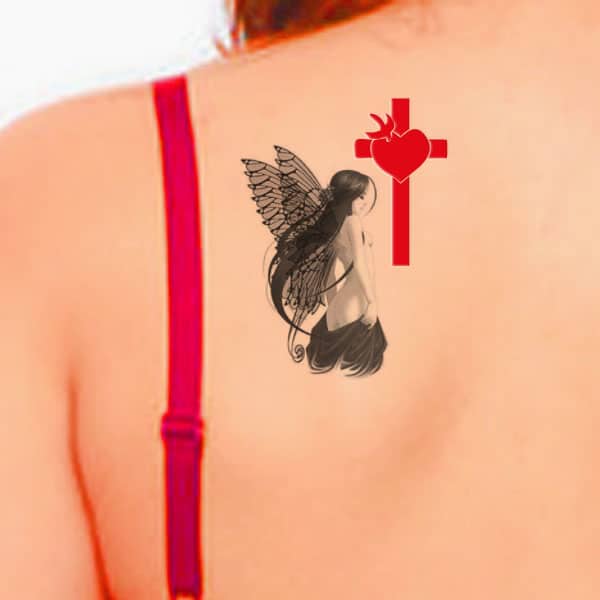 To show off your sexuality, the cross can come hardy. If you are a lady, there are so many things you can use the cross tattoos to express.
12. Full back cross tattoo design ink idea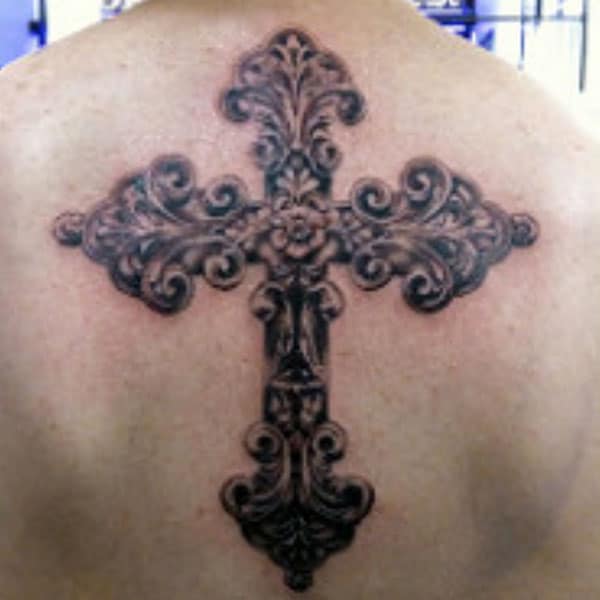 We have seen these cross tattoos on rappers who have taken special liking them. Every part of the body can accommodate the cross. image source