Diamonds are invincible and considered as the hardest substance on earth. Diamond tattoos are quite popular and worn by both men and women. A diamond can be worn as a stand-alone tattoo or combined with several other symbols and patterns. A diamond tattoo looks cool in any size, big or small. We have curated a list of diamond tattoo designs you can apply on any part of your body.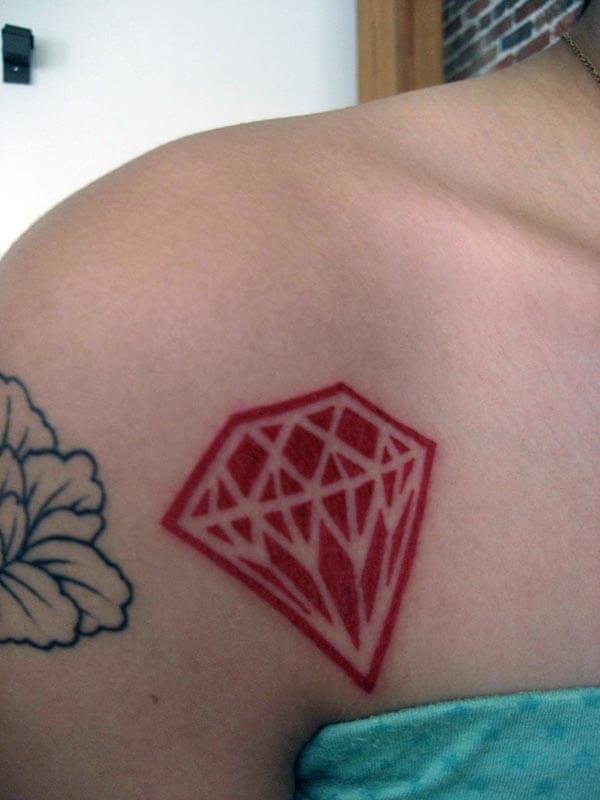 A cute red diamond tattoo on front shoulder for Women. Diamonds are irresistible jewel and make anyone look luxurious. The person wearing this tattoo relates themselves to the characteristics of a diamond- strength, purity and beauty.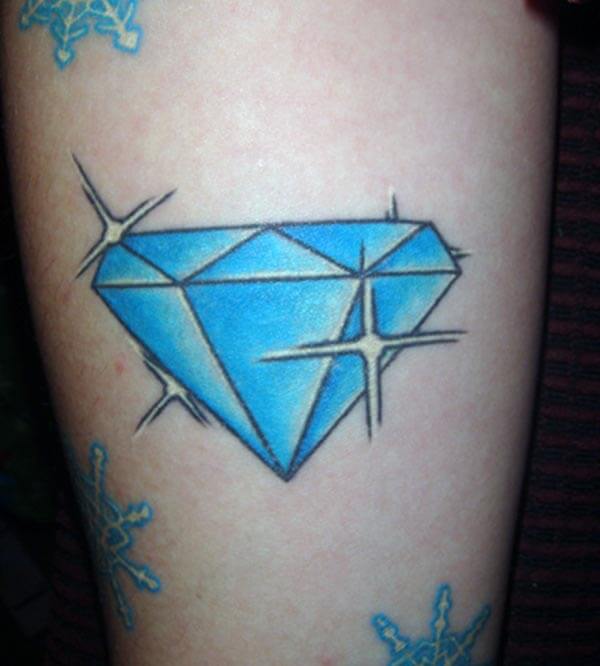 A sparkling blue diamond tattoo on arm for Ladies. Diamonds are associated with wealth, purity, desire, prestige and invincibility. These tattoos do not only impart beauty to the wearer, it also makes them confident and strong from inside.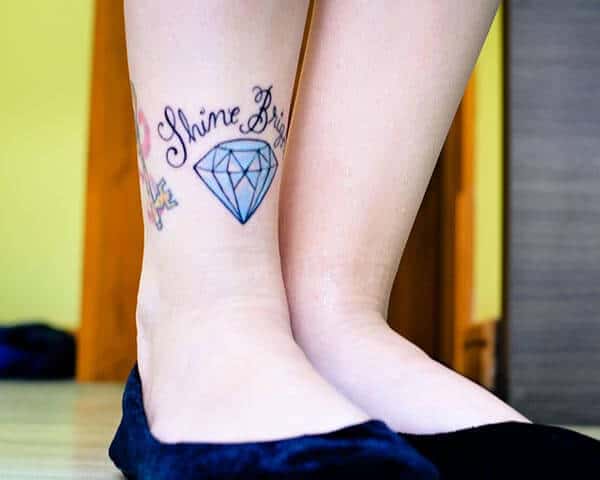 A cute tattoo of blue diamond with Shine Bright wordings on leg for Girls and Women. In ancient days, diamonds were worn to ward off evils and bad lucks. Nowadays diamond is a part of the luxurious culture and wore to display wealth and prosperity. In this context, the diamond tattoo makes the wearer confident to shine brighter and stand out.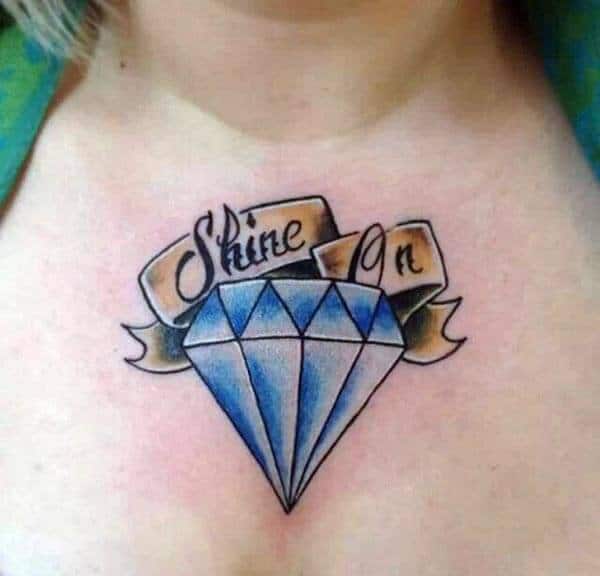 A cool blue diamond with Shine on wordings on chest for Ladies. A blue diamond symbolic diamond representing the wearer's desire in life is the perfect tattoo design for Women. This design is placed perfectly on the chest as it can boost the confidence and make the wearer proud of having it.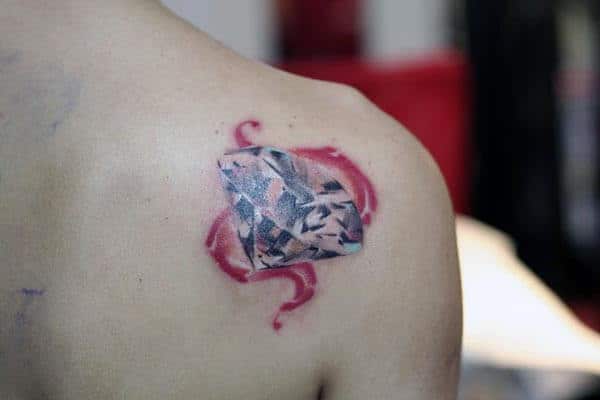 A realistic diamond on back shoulder for Girls and women. Real diamonds are precious gem and expensive too. When you can get an equally precious diamond tattoo that will be with you forever, nothing else can make you feel so contended. If you like to have a realistic tattoo, then this tattoo design is meant for you.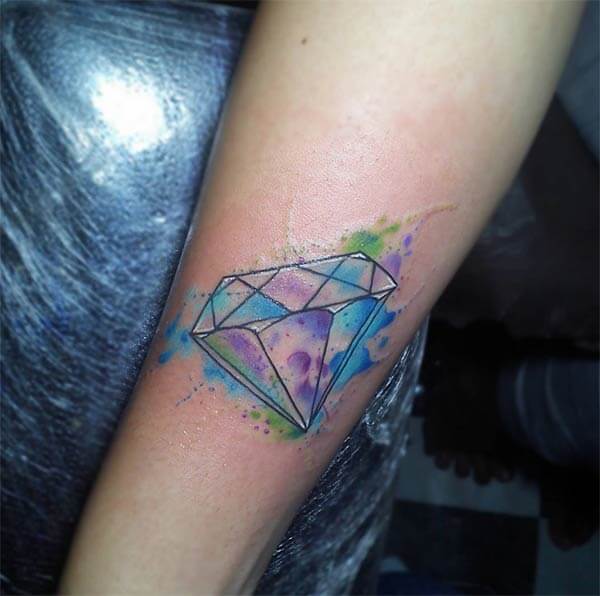 Awesome watercolor diamond tattoo design on forearm for Girls. Diamonds are the most precious gems and always make women feel proud of possessing one. Popular diamond tattoos are usually the simple outlined diamonds. This one is really special as it has a splash of watercolor on it depicting the personal interest of the wearer.
Diamond Tattoo Video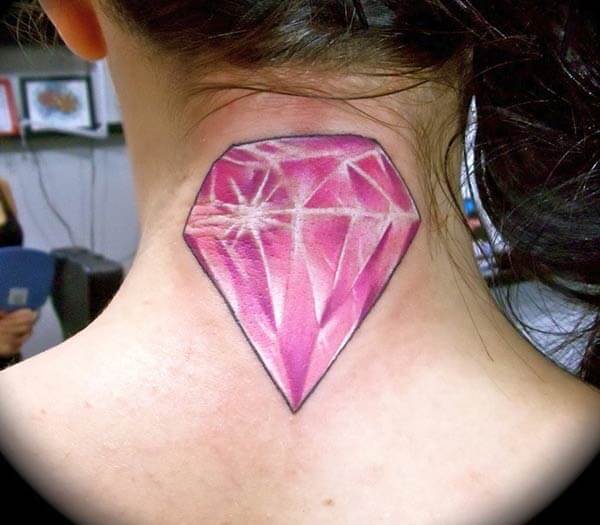 A glowing pink diamond tattoo on back neck for Girls and women. Diamonds are associated with desire, wealth and prosperity. Red diamonds look eerie and out of the world. If you like colored diamond tattoo then try this design!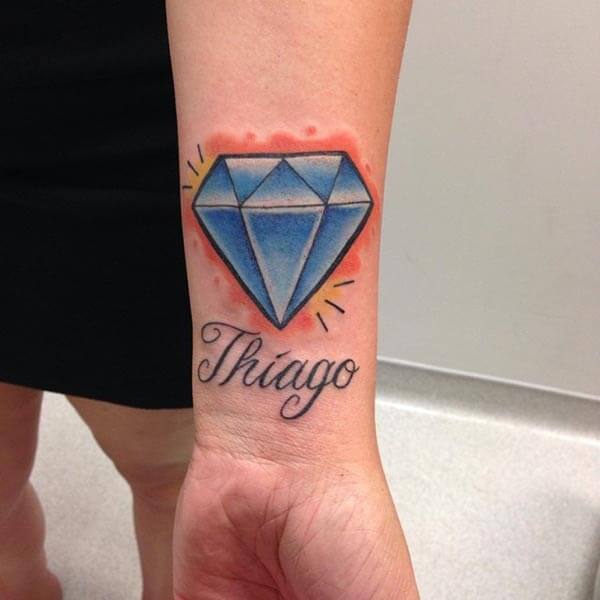 An attractive blue diamond with name on wrist for Girls. Who does not love possessing a diamond? Diamonds are precious and luxurious. You can now have a diamond for yourself forever with this type of tattoo and also spice it up by inking your name below it.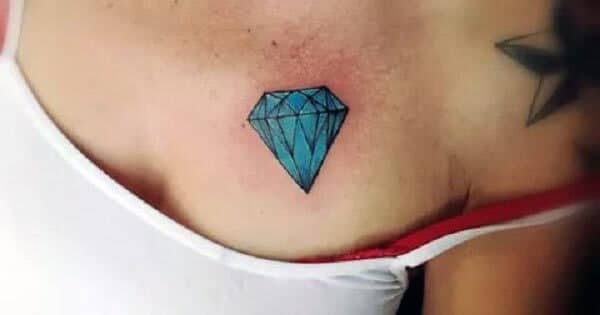 A lovely cute blue diamond tattoo on chest for Girls and Women. Diamonds tend to enhance the appearance of the person both externally and internally. A tattoo of this artistic beauty placed on your chest is not just sexy; it makes you proud of inking a unique tattoo.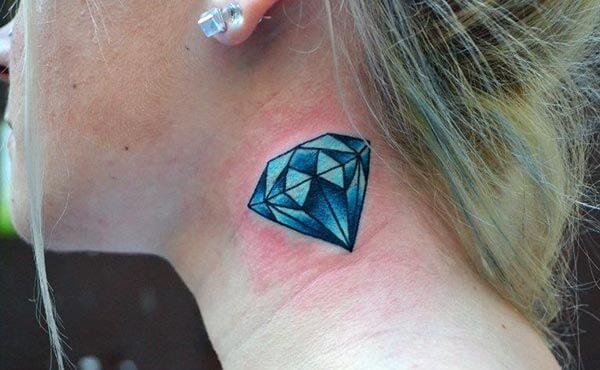 A mind blowing cool blue diamond tattoo on neck for Girls and women. This tattoo is out of the world type. Look at its detailing and the realistic appearance nailed by the artist! Diamond is the most precious gemstone of all time and having it inked on you will help in enhance your beauty forever.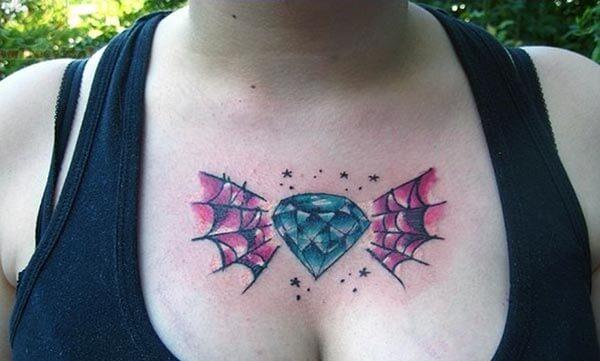 A unique sparkling diamond tattoo design on chest for Girls and women. This design definitely makes a creative and stylish tattoo. The detailing added to the diamond such as webs on both side and stars around the diamond makes it cool and appealing.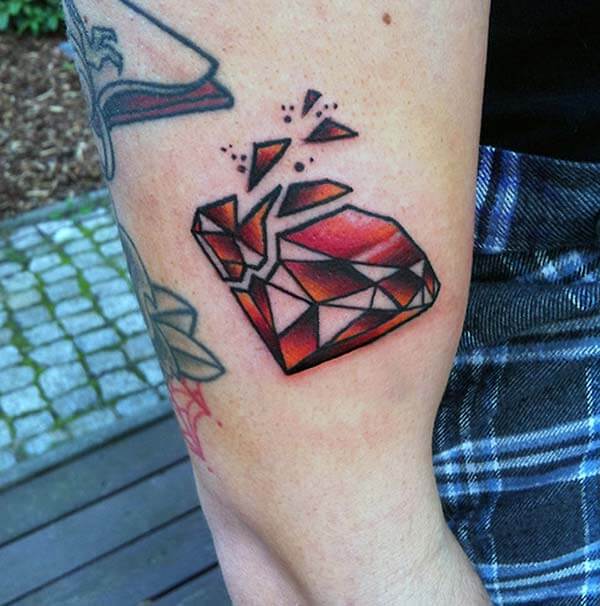 A broken red diamond tattoo design on arm for Girls. Red diamonds depict the wearer's desire and also love life. Here, this tattoo might be a symbolizing their lost love or death of their loved one. These tattoos have deep meaning to the wearer.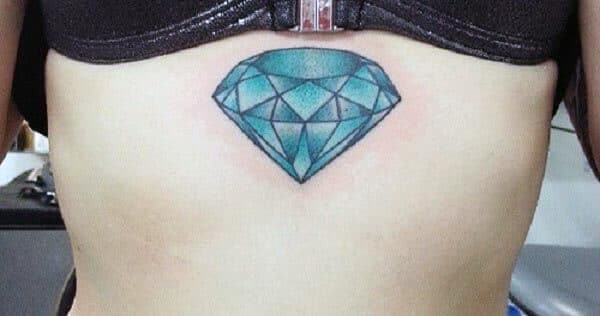 Amazing green diamond tattoo design on below chest region for Women. This tattoo of a large green diamond with striking strokes and light dark shading reflects the intensity. Diamond tattoo designs are going to stay for a life time and will never bore you.