Chest tattoos became popular among females in 21st century. Chest tattoos can be small or big, any shape and size. These tattoos ornate the chest of the women more likes a piece of jewellery. These tattoos have deep meaning in the life of people who gets it. These tattoos help them boost their confidence and face life as it comes.
Chest Tattoos for women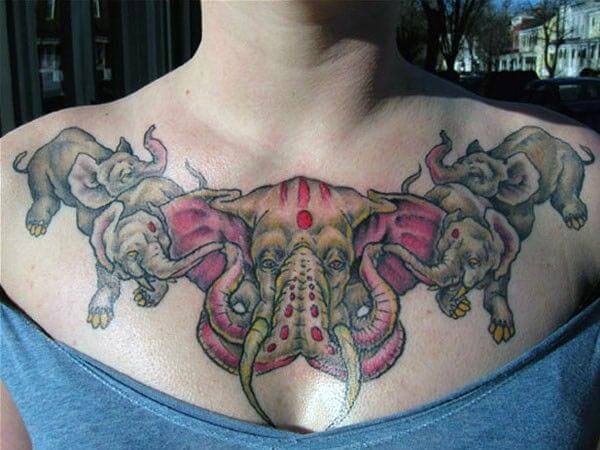 Magnificent eye-catchy chest tattoo design for Girls. This tattoo of majestic elephants with centrally placed large tusker surrounded by other elephants is an impressive art work. The tattoo looks like a ornament wore around the neck.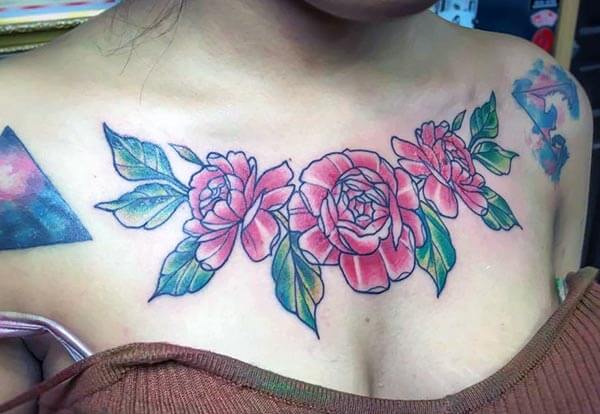 A classic floral chest tattoo design for ladies. This tattoo of three large red roses with leaves looks like a watercolor painting on a canvas. Roses symbolizes love, affection, prosperity and loyalty.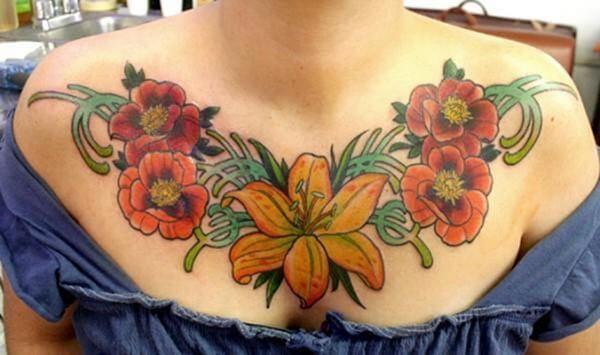 A vibrant and captivating floral chest tattoo designs for women. The centrally placed yellow orange flower is equally beautiful and attractive as the side flowers. This tattoo is done so realistically that it looks exactly like a painting.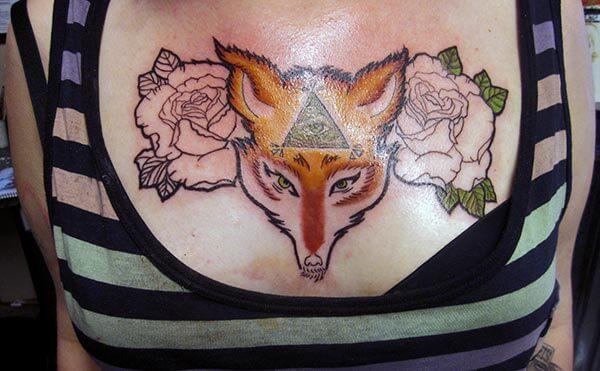 A wild and classy chest tattoo design for ladies. This tattoo is a combination of unrelated elements that comprise of centrally placed fox with roses on either side. This tattoo has high significance and meaning to the wearer which can be interpreted differently by on lookers.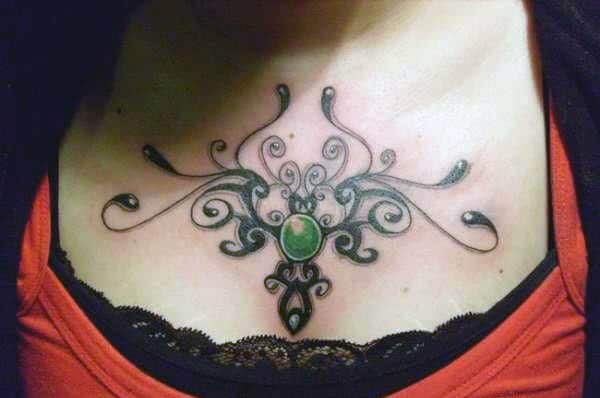 A bejeweled pendant chest tattoo design for girls. Girls love ornaments especially bejeweled ones. This tattoo depicts the wearer's interest in jewellery and precious stones. This classic tattoo of intricate design and green stone in center is absolutely marvellous.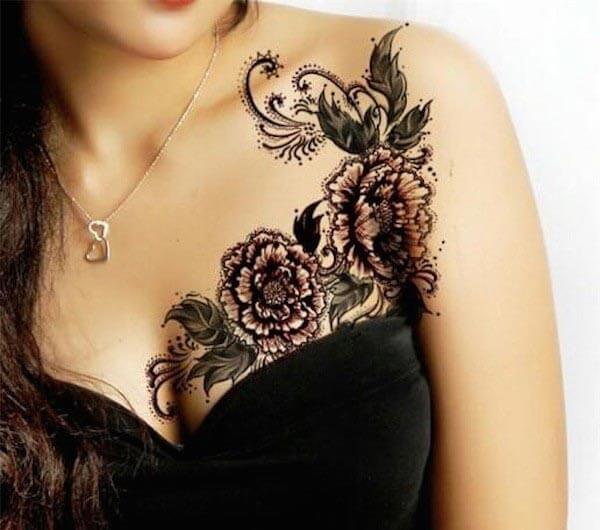 An intricate floral vine tattoo on side chest for girls. Flowers are beautiful and adds grace to anything it touches. This black, red and white flowers with leaves is perfectly placed on the side of the woman's chest. These kind of tattoos are worst showing off in public.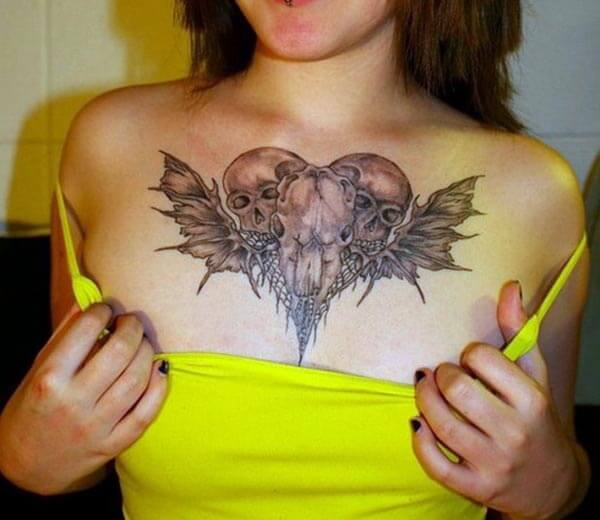 A bewitching chest tattoo design for girls. This captivating devilish tattoo of animal skull and human skull with bat wings is mind blowing. Tattoos like this though it seem sinister are very cool to spot on and show off.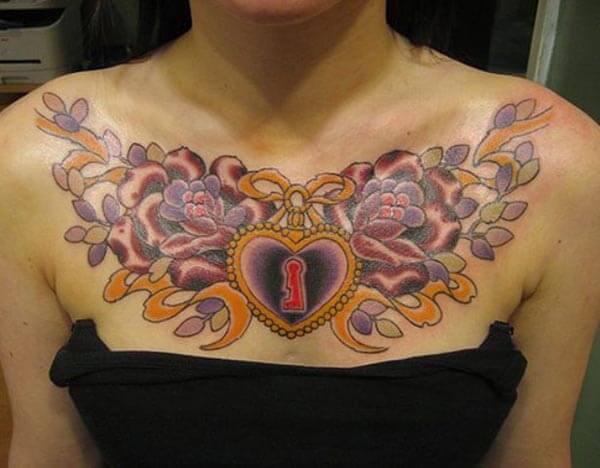 A striking heart shaped lock chest tattoo design for girls. The centrally placed heart lock is surrounded by eye-catchy red white flower, leaves and branches. The tattoo depicts the person's love life and emotional feelings.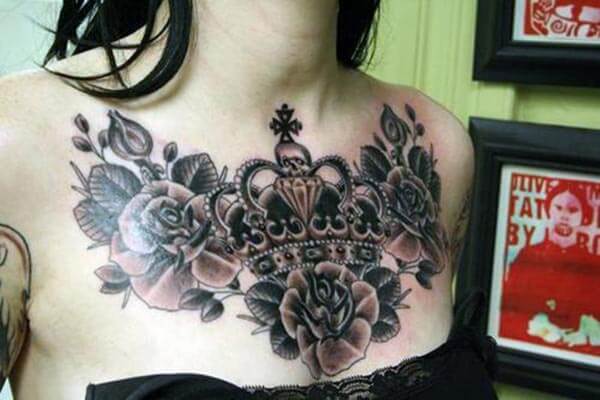 A black and red breath taking chest tattoo design for women. Every woman consider herself as queen and it's nothing wrong. But it takes courage to accept it publically. This tattoo with central marvelous crown and red roses on either side and bottom signifies its imporatnce.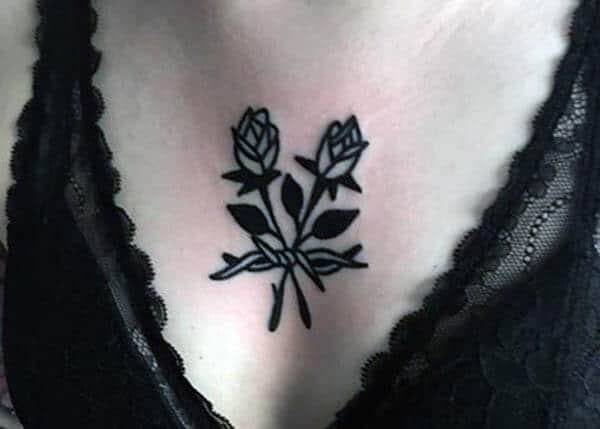 A simple and elegant chest tattoo design for girls and ladies. The two crossed over roses has a huge significance to the wearer. This might be a depiction of the wearer's love life and relationship.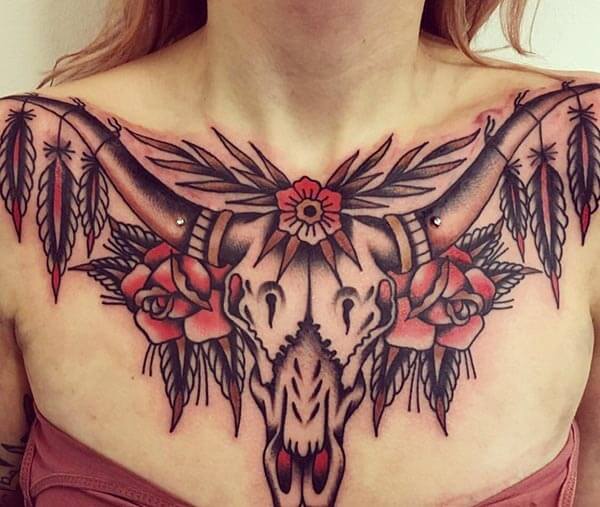 An arresting unique chest tattoo design for girl and women. This ravishing tattoo art of central animal skull with feathers hanging through horn is simple spellbinding. This tattoo looks very cool and feels nothing sinister about it.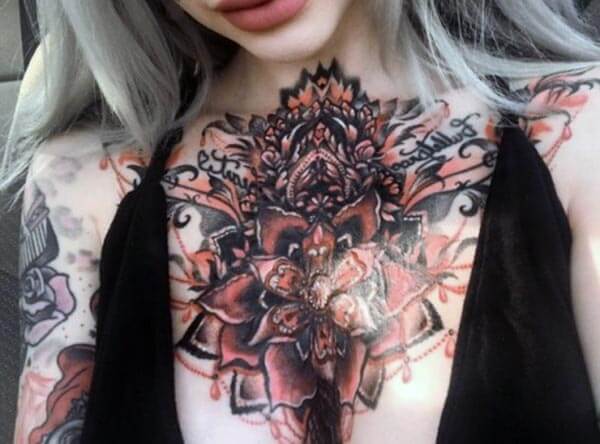 Ravishing floral chest tattoo design for Girls and women. This enormous black orange flower looks cool and awesome on chest. Enormous chest tattoos that spread across the chest, shoulder and neck is a popular choice am0ong tattoo lovers.