Cat Tattoos Ink idea for women
Cats are loved by many all over the world. These are free-spirited animals that are fearless and playful. People show their love towards this furry feline by getting a permanent ink to cherish their memories. Cat tattoos are popular choice among cat lovers. Big or small, these tattoos are capable of charming anyone.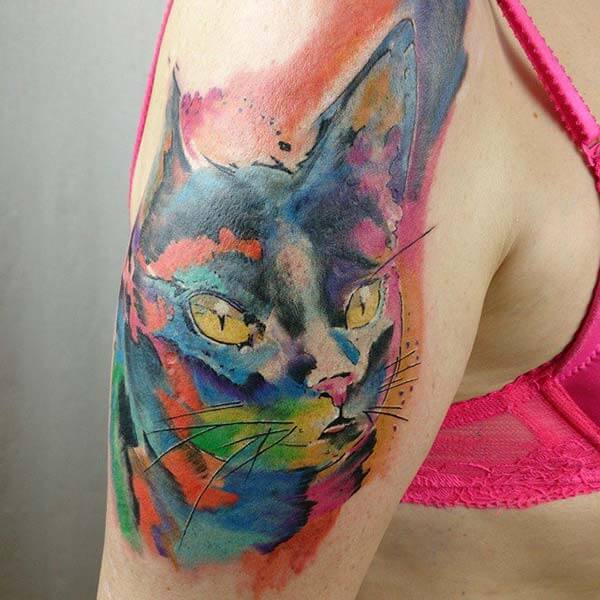 An enthralling watercolor cat tattoo design on arm for girls and women. This vibrant colorful abstract drawing depicts the wearer's love for cat. Cat tattoos designs for girls are strong symbols of feminine power, elegance, protection luck and prosperity.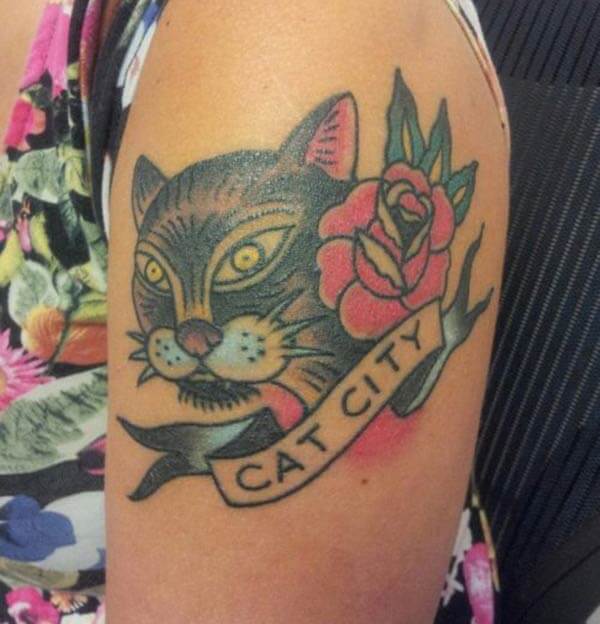 Cute cat tattoo ideas for girls on forearm. This tattoo shows the love of the wearer for cats. The red rose on one side and cat city wording below makes this tattoo a perfect suit for any cat lover.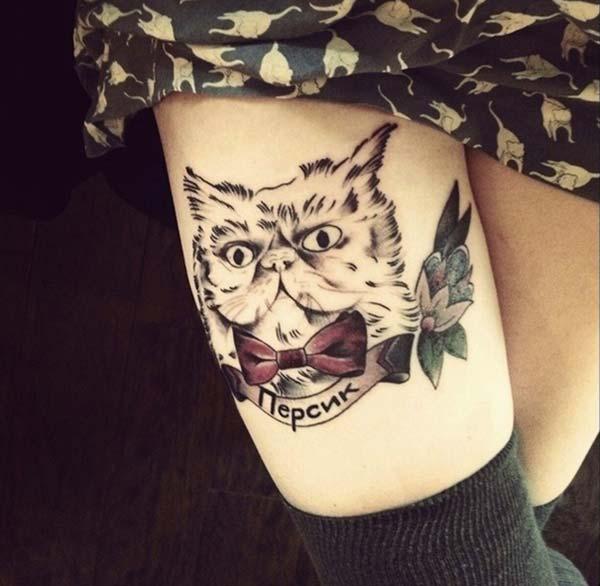 An adorable and captivating cat tattoo design on thigh for cat loving girls. This adorable tattoo of exotic shorthair cat breed with its name written below is the best choice for any cat owner. Cats are symbolic of rebirth and resurrection.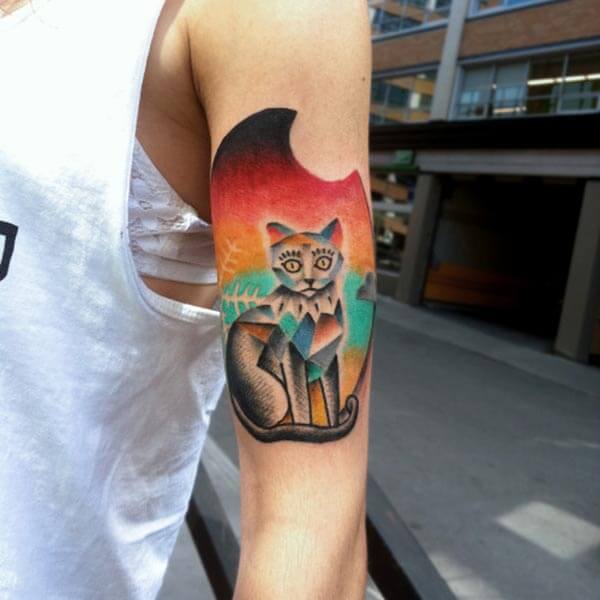 A vibrant cat tattoo design on forearm for girls and ladies. This marvelous tattoo of a grey cat in front of moon and plants is absolutely gorgeous. Cat tattoos boost the confidence of the wearer and make them feel proud of this achievement.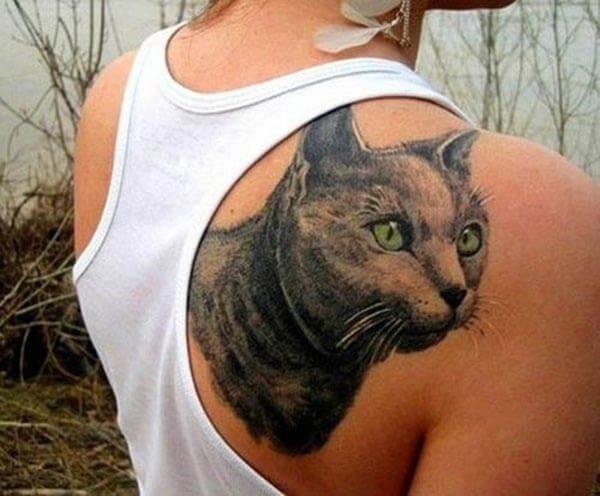 A hyperrealistic cat tattoo design on back shoulder for ladies. This tattoo looks exactly like a charcoal drawing on the back of the woman. Cats are free-spirited animal and most people prefer it to show off their nature.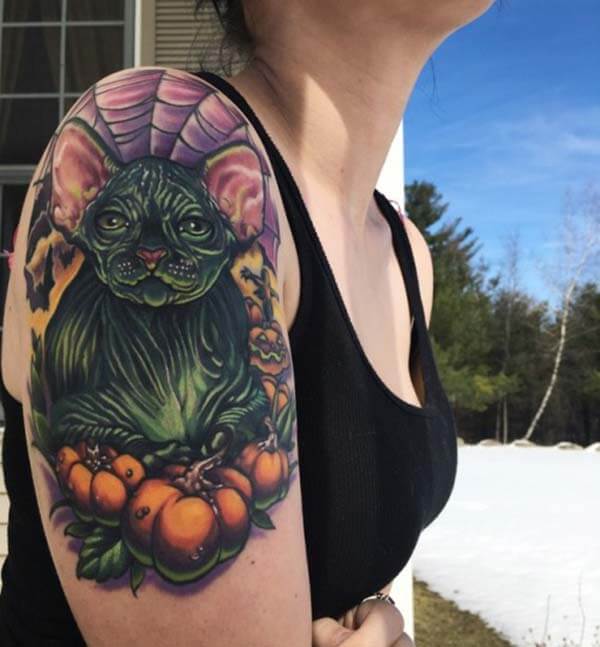 An eye-catchy and mind blowing cat tattoo design on shoulder for Girls. This tattoo of green Devon Rex with pumpkins on the front and spider web in the back shows a perfect Halloween surrounding. Cats are sweet and adorable animals and at the same time they can be devilish.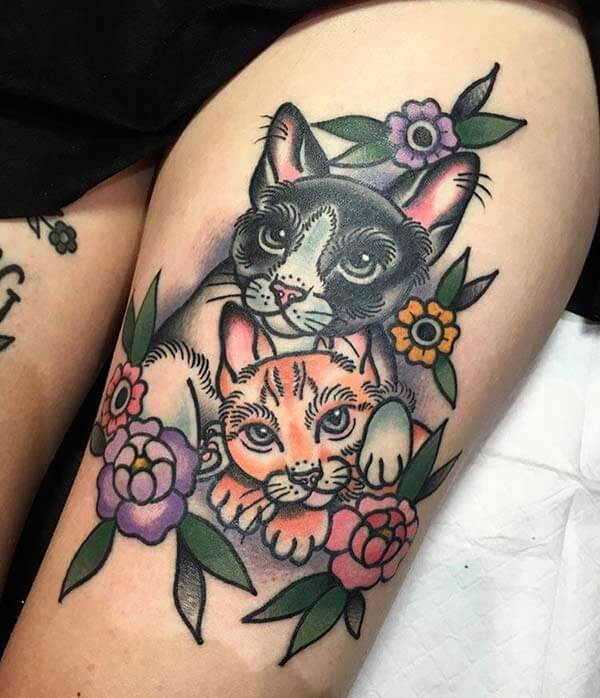 An attractive and cute cat tattoo design on thigh for Girls. This enchanting tattoo of cats surrounded by flowers are inked in various colours making it captivating. A person's love for cat can be evaluated when they ink cat tattoos on their body.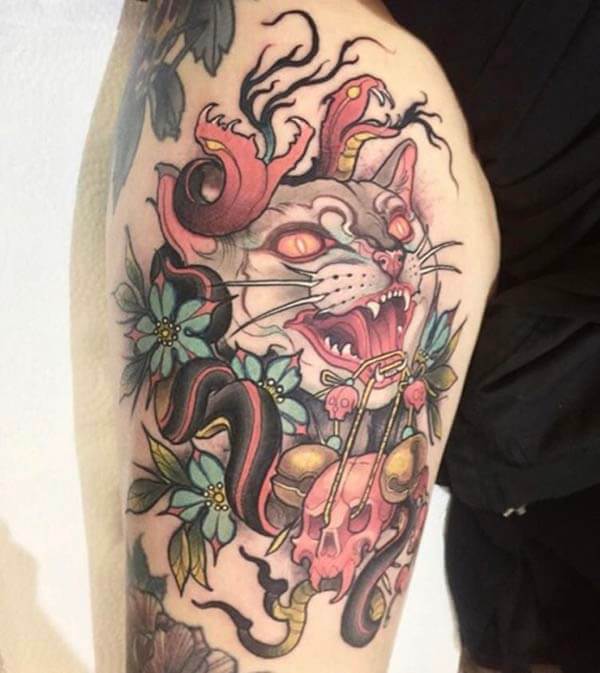 A jaw-dropping cool cat tattoo design on shoulder for girls and ladies. This tattoo of a fiery cat surrounded by vicious snakes on top and red skull on below is super cool. Cats are fun-loving adorable creatures and can have a killer instinct at any time.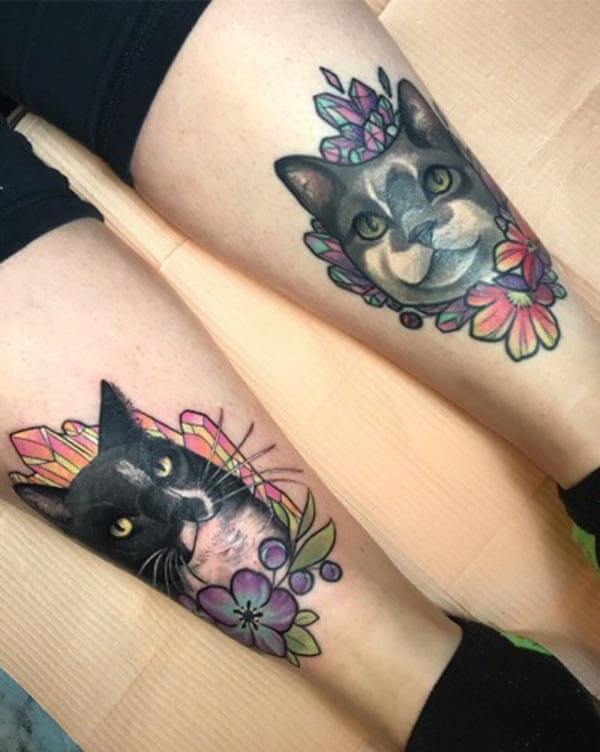 A fantastic cat tattoo design on both legs for girls and women. Cat lovers will go to any extent to show their love for this beautiful creature. This tattoo of cats surrounded by flowers is very beautiful and adorable.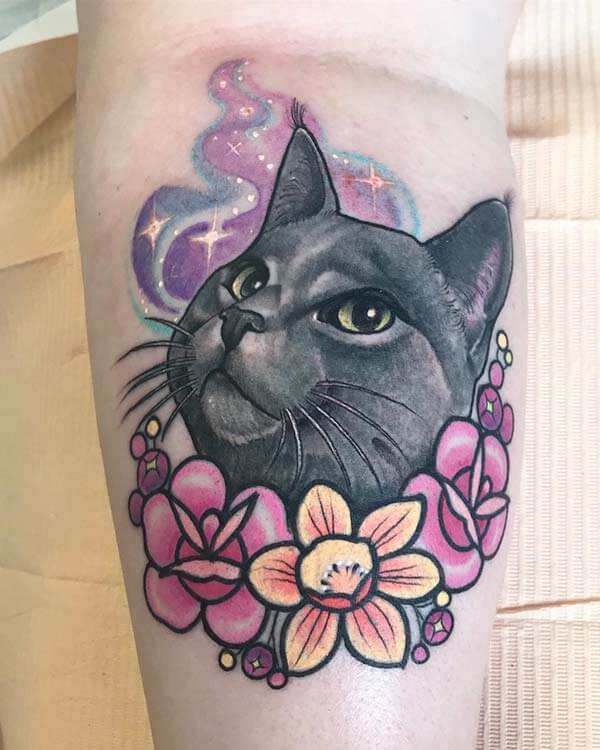 A magical cat tattoo design on leg for girls and ladies who love cats. This adorable cat tattoo with flowers suits perfectly on anyone who loves such tattoos. The large flowers around the cat face and the striking eyes are catchy and impressive.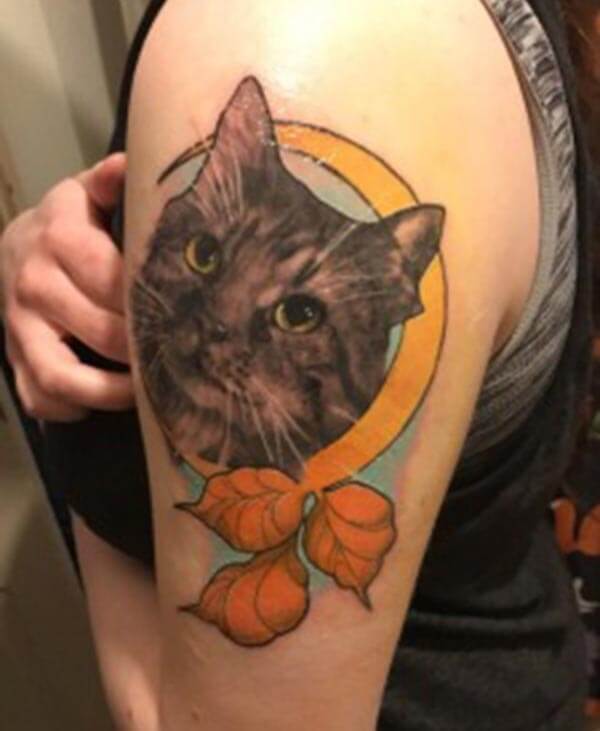 A cat lover's shoulder tattoo on cat design is irresistible and head turner. This tattoo comprise of yellow moon and leaves around the neck of the cat. Cat tattoos makes the wearer confident and happy promoting positive vibe around them.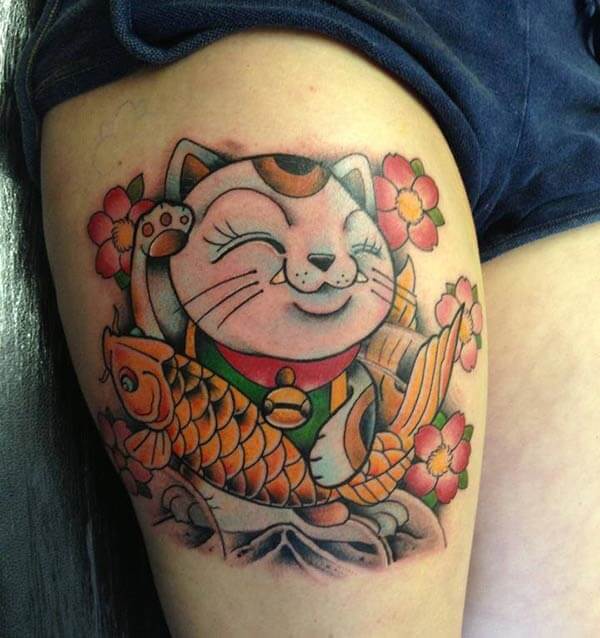 A marvelous cat tattoo design on thighs for girls and women. This tattoo of very cute cat holding golden Koi fish surrounded by flowers is very attractive and outstanding. A tattoo of this this beauty is very stylish and cute at the same time.